Wednesday, April 09, 2014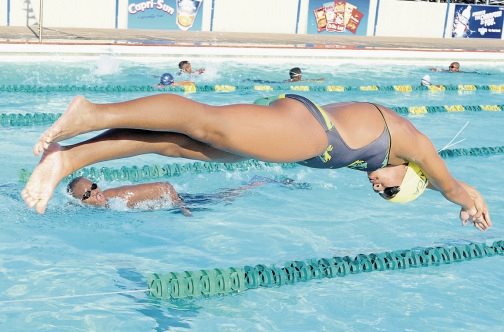 Carifta Swim team member Leanne McMaster in a picture perfect dive phase during her training session at the National Aquatics Centre on Monday.
Wisynco Group Limited through its brand Powerade and WATA, along with Island Grill presented the 30-member Carifta Games swimming delegation with branded bags that will assist them in carrying their luggage when they depart for Aruba on April 19.
The presentation was made at the National Aquatics Centre, Stadium pool on Monday.
Wisynco Group Limited and Island Grill now join title sponsors Petroleum Corporation of Jamaica and Milo, who have aided members of the national swim team with the much needed lift, leading up to the 29th staging of the Carifta Swimming Championships set for April 22-26.
Karen Rosen, who is the trade and marketing manager at Wisynco, outlined that this is their first time sponsoring the Amateur Swimming Association of Jamaica at this level.
"This is our first time sponsoring swimming at this level, we are happy to throw our brands WATA and Powerade on board. We have seen many synergies between the athletes and these two brands and we look forward to a long-term partnership with the swimming association," she told the Jamaica Observer.
Island Grill Chief Executive Officer (CEO) Thalia Lyn noted that this is their third year on board and they love sponsoring the young athletes.
"Well one of the things is that the kids need to have something and we saw how much they appreciated it last year, so we decided to do it again this year...moreso because they will be travelling, we also feed them at the airport before they leave," she explained.
She added that the sponsorship is to show the athletes that their hard work in training is not overlooked.
"I think this is such a great sport to support because these athletes dedicate a lot of time to this sport...two hours in the morning, and again in the evening swimming 5,000 metres per day. So you really want to reward them for their effort and this is something for them personally."
Gillian Millwood, one of the team's coaches, was encouraged.
"Well the sponsors coming on board is really refreshing, before we had to be begging and having the parents putting in the full percentage of the cost, but now the swimmers are being supported and the parents are seeing the rewards of all their efforts. So we are really happy and welcoming of these sponsorships," said Millwood.